PomoMode App Research
Personal research project on controlling digital bad habits to get things done
My Role: UX Research & Strategy
June – September 2019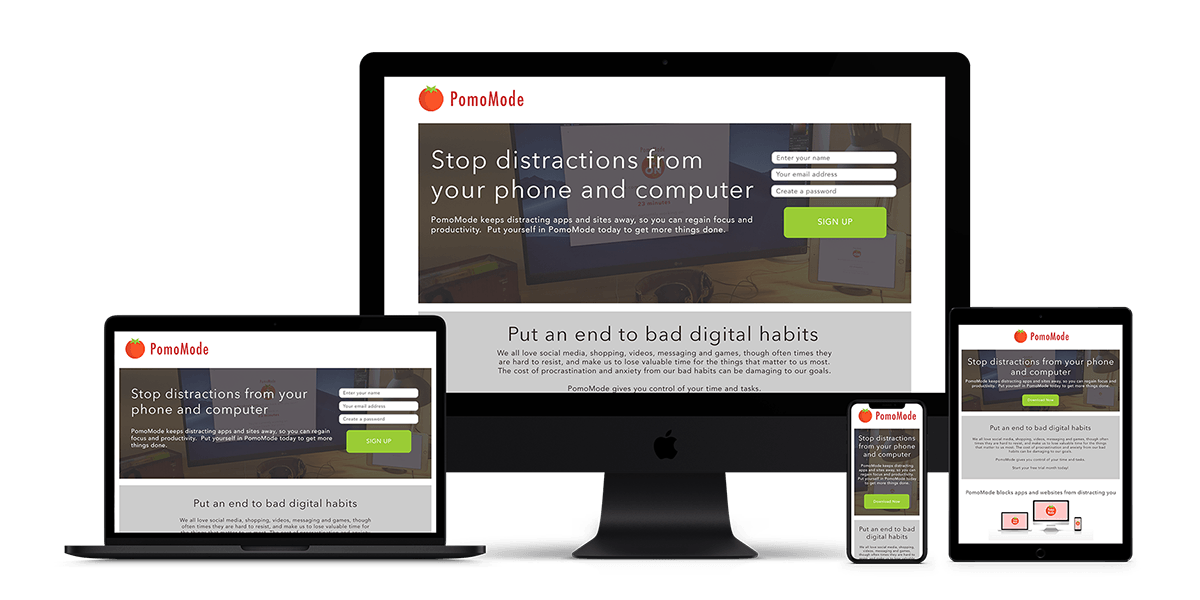 I started this personal project to create a product around the "behavioural change" problem space, specifically around the habits of getting things done.
Methods: Interviews, brainstorming, prototyping, wireframing, UI/UX design
Skills: Interviewing, synthesising, wireframing, designing
Deliverables: Personas, storyboard, competitor analysis, customer journeys, user flows, wireframes, designs
Tools: Post-its, Balsamiq, Photoshop, InVision Studio, Powerpoint, Whiteboard
Every year millions of hours are lost in productivity owing to "digital distractions" from our smartphones. Our digital devices bring an unprecedented level of convenience, though we pay a heavy price with our divided attention. When there are deadlines to meet, then how is it we end up drawn to our devices and procrastinate our time away?
People with deadlines have no holistic way of regulating their digital habits to help them work productively.
The project was motivated by my own experience. When working from home or outside the office, I looked forward to the relative peace and freedom that it brings. I had a work presentation to prepare for the next week and saw this as an opportunity to finish early, so I can use the extra time to concentrate on other priorities.
I began with a clean Powerpoint deck and started outlining the sections before my phone sounded a chat notification message from a friend I hadn't heard from in a while. I picked up the phone, and by the time I put it back down again, an hour had already passed. I found myself going down several rabbit holes: watching YouTube videos, playing puzzle games, checking social media and so on.
Feeling disappointed in myself, I gradually regained momentum to write the introduction page. Then in the corner of my eye, I see my phone flash again with another notification. My instincts were to gratify my curiosity by checking the message, but I found myself was swiping through Facebook. This situation got me thinking: What do people do to limit distractions when they work with deadlines?
I decided to talk to people to understand their behaviours and habits when working with deadlines, and what motivates them to get things done. I began with some interviews, research in the problem space and competitive analysis.
I conceived this project from my assignments while studying the UX Research & Strategy course and later reiterated it with UX/UI stages to bring findings to life.
I chose to do my primary research through interviews with five friends between their 20s to 40s, in different occupations where deadlines form a part of their daily life. I captured remarks from teachers, work colleagues, entrepreneurs and students I knew in Hong Kong using handwritten notes. In hindsight, it would have been better to use audio/video recordings.
During the interviews, I asked them to take me through their daily routines and habits when they have a time-limited task to complete. They talked of lacking motivation and then finding relief by procrastinating.
2. Research in the Problem Space
There was no shortage of life-hacks, articles and books addressing the topic. I looked for productivity advice and product solutions as market research. Among these were time management methods, including the "Pomodoro Technique" and several online tools designed around improving productivity.
I compiled a list of features from the tools aimed at improving productivity for their users, on the premise of organising them on a matrix once I better understood what people needed.
I synthesised my notes to create empathy maps for each of the five people I interviewed and made two attempts to put my findings into affinity diagrams. My first effort on a small whiteboard showed recurring themes but quickly realised I was running out of space to work!
People are stressed and worried about the impact of missing deadlines on their financial security and careers
People have times when they are most productive and often seek a quiet environment to focus on their work
People experience demotivating thoughts with time pressures and tedious activities, yet they are motivated by envisaged rewards and gains
Most distractions come from sources that people have direct control over, especially with their phones
On my second attempt, I laid out the statements in Powerpoint and looked for patterns based on attitudes. The larger canvas helped me identify four traits that help explain many of the feelings and demotivational thoughts:
Perfection – Those who look for the best in what they do
Fun & Dread – Rather do anything except that dreaded task
Overwhelmed – Anxiety over own ability to cope with tasks
Got Time – Difficulty starting tasks especially when the deadline is a long way off
I used these findings to develop a persona that represented a web developer who wants to make the most of his time working from home but struggles to stay focused.
I took the findings to brainstorm "How Might We" design statements and sketched ideas out using the Crazy Eights method. The ideas generated from this exercise led me to create a storyboard for a product called "PomoMode". I revisited my original my competitive analysis organised the features into a matrix between the value to the user and the cost of implementing. Admittedly, without user input, I had to use my judgement and background in IT to decide on their positions!
As an extension to the storyboard, I created two customer journeys for the persona to compare touchpoints and illustrate the enhanced experience with the design.
7. User Flow & Wireframes
All the research insights, ideas and features informed PomoMode's user flow and wireframes.
I used Photoshop to create a set of mockups from the wireframes.
Here is a round up of the deliverables included in this project:
Empathy maps
Affinity maps
Persona
Competitor analysis
Storyboard
Customer journeys
User flow
Wireframes
Design mockups
Learning of various research methods to gain insights
Practising and refining research techniques
What should I stop doing?
Using so much of my past technical background to making judgements that introduce bias
What could I start doing?
Introduce user involvement in projects from the outset and through the entire process
What did I like about this project?
My first user research project with UX deliverables
Rewarding that this is something I created from scratch
Enjoyed getting to grips with new tools for wireframing
What were the challenges in this project?
My past technical background had me thinking about solutions before completing my research
Team of one with little feedback from users. Making use of friends and family for research was not ideal
Using the inappropriate software to create deliverables was more difficult and time-consuming
Relied too much on own experience, giving rise to too many assumptions behind design choices